Technology has become a driving force in all the business verticals for better customer service and enhanced business efficiency. Different departments use it for getting better insights from data and making the right decision at the right time. There is no denying that data has become the most crucial source of growth for businesses.
Marketing Information System (MIS) provides a platform for data integration and processing at one place in a more arranged manner. In this article, let us understand some critical features, components, and necessity of MIS in organizations.
Marketing Information System – Definition
A marketing information system (MIS) refers to collecting and processing the data utilizing various technologies relevant to sales, promotion, price, market, competitions, customer relationship management, and others. The proper data analysis through MIS ensures effective decision-making by gathering appropriate internal as well as external data.
Features of Marketing Information System
To attain a competitive edge and enormous success, all types of businesses are adopting MIS wholeheartedly. The features of MIS vary among organizations and industries; however, these are the most common features of MIS.
1. IT-enabled:
Information technology is the backbone of the MIS, so there could not be an efficient MIS without the involvement of digital devices, connectivity, data storage, and analysis features. Businesses are even opting for advanced technologies like Artificial Intelligence, the Internet of things, Cloud computing, Automation, and others in their MIS. Useful marketing information gets stored in microfilms for better utilization of data. As and when required, the system presents data in a summarized and understandable manner for great insights.
2. Easy access:
Imagine a situation where a marketing manager needs the last five years of marketing data stored physically or on different computers without any proper arrangement. It will take days or even weeks to get those data without the surety of accurateness. Just opposite to that, MIS presents data within minutes depending on various factors.
3. Applicable to all organizations at all management levels:
It is a wrong notion that MIS is only for big companies operating on a large scale. The reality is just opposite to that, and any organization may adopt the MIS at any level. It helps in formulating marketing strategies, policies, plans, and procedures for different verticals.
4. Inter-related components:
It is not always true that MIS is for the marketing department. Human resource departments use the data for appraisal and promotion, whereas quality teams use it to measure the quality compared to the performance and so on.
5. Future and growth-oriented approach:
The MIS has become indispensable for future-looking companies that want to use technology for better decision-making. MIS works like a growth instigator by supplying accurate data for rapid decision-making. As a business, getting information about successful and unsuccessful strategies becomes as easy as browsing a web page. Log in to the system and generate reports on various factors for formulating growth strategies.
6. An accurate, consistent, updated, and reliable source of data:
Whether you use the data for various purposes or not, there is no denying that data stored in one place makes your work easy. The data helps in tax compliance, advertising campaign formulation, business expansion, departmentalization, and much more.
Benefits of adopting a Marketing Information System –
MIS simplifies the decision-making tasks and presents a valuable tool for decision-making and strategic planning. Understanding the data for seeking out the information becomes very easy.
The business fills up the information gap within the organization by supplying data when it is required. MIS has become a valuable tool for short-term as well as long-term decision-making.
Assessing market demands, supply, perspectives and processes becomes more manageable. The business saves costs on marketing operations.
MIS facilitates brand image creation and helps develop product differentiation, customization, public relations, and other related operations. Getting an edge over competitors becomes possible without involving in direct competition. Through data mining, management uses successful strategies for retaining the existing customer and expanding into new demography.
As MIS targets the problematic areas and facilitates in taking desired business decisions, companies save cost and time. No need to put up extra human resources for data maintenance and providing reports when required. It can easily be assigned to every employee to contribute to the MIS by entering the field and office data. An engineer visiting to attend the service call will join the customer and product issues into the MIS. So on, maintaining accurate and reliable data becomes a process without involving much cost and time.
Evaluation and control of marketing operations, employees, advertisement agencies, and others becomes easy. When you have pre and post advertisement data of a product, you can decide the performance of the advertisement campaign proficiently.
Disadvantages of Marketing Information System
Despite having a multitude of benefits, a marketing information system is not without any drawbacks. Many people admire MIS, and the same number of people possess critical views on that. Here are some significant disadvantages of using MIS
The critics believe that the main work of marketing is to be with the public/customer/consumer rather than data mining. Marketing is more about people engagement and data gathering with on-field experiences. Too much reliance on the data and information system hampers the natural flow of marketing and leads to other issues.
Initially, Immense labor and resources are required to fill the data and make the system operational. MIS depends on the human resource for data and operations, so it is like duplication.
More and more reliance on digital devices make organizations prone to other risks like cyber attacks. Secondly, companies become more vulnerable due to the complete dependence on digital devices. In case of any breakdown in the system, the whole work will stop all of a sudden.
Monitoring and reporting are required to reap the full benefits of MIS, constant data updating. There is no use of data that has become obsolete.
The output qualities solely depend on the input quality. So if the data entry is faulty, the decision-makers will get inaccurate reports that eventually minimize the level of operations.
Components of Marketing Information System –
Data collection, processing, analysis, and reporting are the main characteristics of a successful MIS system. To achieve those objectives, MIS depends on four primary techniques or components.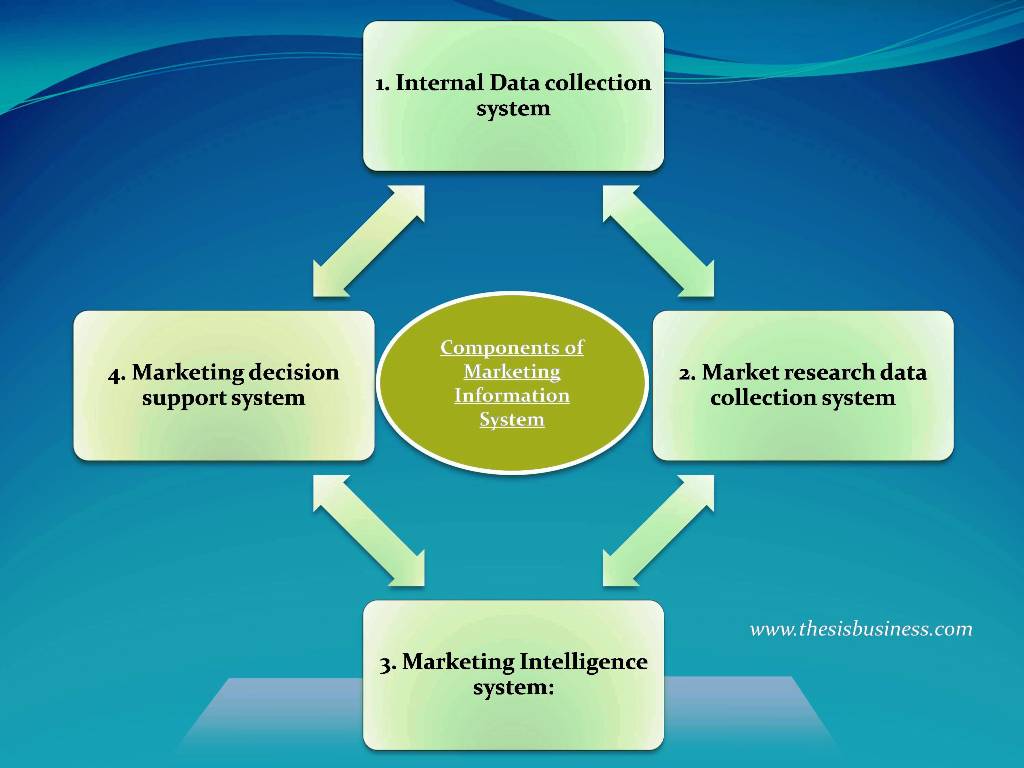 1. Internal Data collection system:
A company creates millions of data in a day, depending on the company's size. From the attendance system of the employees to the customer complaints, all these are data that can be used for quality and performance improvement. Management tasks the employees dealing with data such as sales, receivables, payables, marketing cost, marketing executives, and others to feed them into the MIS. All data is recorded in an integrated manner for better decision-making in the future.
2. Market research data collection system:
Various third parties organizations provide marketing research. Some companies involve their employees in research. When data received from the market is incorporated into the MIS, the software suggests possible solutions and processes.
3. Marketing Intelligence system:
This component analyzes the data and provides updated and insightful information daily. The competent person gets the recent trend, competitor's strategy, market conditions, technological advancement, customer needs, marketing environment, etc., for preparing the organization to tackle upcoming challenges. Businesses are also opting for new-age technologies like AI, IoT, and others for making the system more intelligent.
4. Marketing decision support system:
Just like an erudite, the system makes use of various mathematical and economic tools such as optimization, statistics, regression, linear programming, time series analysis, and others. Here system converts raw data into valuable marketing information for enabling the decision-making process.
Marketing Information System – Implementation Process
Like any other system, MIS starts with setting up the objectives, policies, matrices, and other parameters. An organization work on selecting the right metrics that include cost, purposes, limitations, and others.
Once the initial stage is framed, it's time to gather data for further entering into the system. As MIS works on the input data, it is vital to collect accurate, precise, and reliable data from various sources for the system.
Getting useful information from raw data without any visible patterns is not possible. Concerned staff does the data plotting so that the system can fetch the required information as and when required.
In the fourth and final stage, MIS uses the raw data in coordination with various inputs to provide you the information. That information sets the base for making the right decisions at the right time.
Wrapping Up –
Marketing information system has become the need of the hour, and it is expected that its acceptance will increase day by day. Businesses have understood that putting money into MIS is an investment rather than an expenditure.